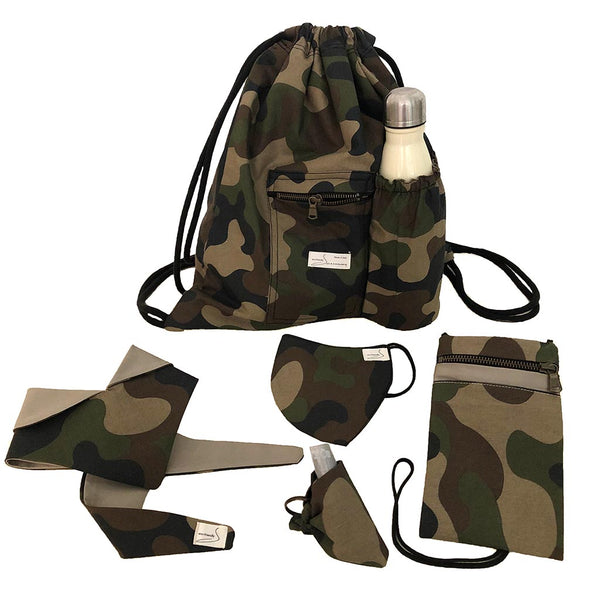 The Explorer Collection is an evergreen. 
Cloth facemask washable, reusable, organic.
Each facemask is hand made in Italy, one piece at a time, by expert artisans.
They fit well from nose to chin, they are very breathable  and do not slip down the nose.
The non-woven polypropylene inside fabric (also known as TNT in Italy) provides a number of benefits including bacteria inhibition, adsorption, filtration, and softness, all characteristics that qualify it as one of the key-materials to manufacture face masks. Also, it's 100% recyclable, waterproof and very durable.
If you are a fan of this fabric pattern, please check our matching Explorer Collection here:
Backpack

Face mask/accessories carrier

Dog Bandana

Keychain

Dog carrier purse
COMPOSITION
Outside: 1 ply organic cotton (certified GOTS)

Inside: 1 ply non woven polypropylene 30 gr/mq (certified Oeko-Tex Standard 100)

Elastomer 3%

Organic cotton 100% thread produced by world leader Manifattura Italiana Cucirini (yes, we did our homework, only durable top notch quality!)
Most people carry their facemask on the wristle when not in use, so we looked for a better alternative and designed a matching mask/accessories holder. You may find it here
GIFT CARD
They make a nice gift too. A loving way to show that you care.
Have you checked our GIFT CARDS yet?
CARE INSTRUCTION 
Fabrics are pre washed.
You should always wash a new mask before wearing it for the first time
Hand wash at 86°F / 30°C with a good detergent

Lay flat to dry.  Do not put it in dryer

No bleach

Iron lightly on outside only. Use enclosed cloth to prevent heat from damaging  inside layer
SIZE
One size fits all. Most men and women will be fine with our normal size. 
In case you need a larger facemask please check our Size Chart and select LARGE option while adding to the cart. 
RETURNS
For health and safety reasons, all facemasks sales are final, and are not returnable or exchangeable, unless there is an error on our end.
DISCLAIMER
Not sold as a medical-device. Our facemasks are designed to be used by the public when social distancing is difficult or for general activity.
Great quality and comfortable too!
These masks, and I have had many since the pandemic, are some of the most comfortable I ever owned. They are made of soft cotton and fit perfectly over the nose. They stay in place! They are trendy and I can breath through with no problems!
Thank you for noticing all the efforts we put in the making of our organic facemasks. As long as we are gonna need to wear them we made sure we got the best facemask out there!
Favorite Mask during Covid
This is my favorite mask. The material is so smooth on the face, it is organic, it can be washed. When it comes to style, army colors are always a thing, makes all sorts of clothes look cool. No tension around the ears either.
Thank you Nesim. If you like this style please take a look at our Explorer bags and backpacks, they are pretty cool too!
Mask Explorer Perfection
The Mask Explorer is a sharp looking mask made of fine material and has to be the most comfortable mask I have worn. It is washable and easy to care for.
Thank you Kathy. We made so many masks prototypes until we got it down to perfection and buyers seem to notice the difference!